RSNA Press Release
Muşturay Karçaaltincaba, M.D., Travels to Mongolia through International Education Program
Released: September 09, 2016
OAK BROOK, Ill. — Radiologist Muşturay Karçaaltincaba, M.D., will bring his medical expertise to Mongolia as part of the International Visiting Professor Program offered by the Radiological Society of North America (RSNA). The program fosters international relations among radiology societies to assist with medical education in developing and newly developed nations.
Dr. Karçaaltincaba, professor of radiology and chief of CT service at the Hacettepe University School of Medicine in Ankara, Turkey, will be joined by two fellow radiologists as he embarks September 9 on the 15-day trip. He will spend his visit giving presentations and teaching intensive seminars to radiology residents, as well as attending conferences and meetings.
download full-size photo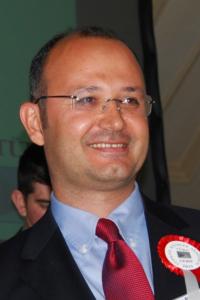 Muşturay Karçaaltincaba, M.D.
The program is mutually beneficial. The visiting team of radiologists informs local doctors and hospitals about the latest advances in diagnostic and therapeutic radiology. In turn, the visiting professors experience firsthand the obstacles faced by medical professionals in the host countries.
"It is a great honor for me to be selected as a member of the RSNA International Visiting Professor program," Dr. Karçaaltincaba said. "This program is extremely important to me because I can introduce recent advances that can enable Mongolian radiologists to perform noninvasive diagnoses by cross-sectional imaging methods."
"Teaching and sharing are among the great joys of my life," Dr. Karçaaltincaba continued. "This opportunity will allow me to share my academic and working experience with radiologists practicing in Mongolia. In addition, as a Turkish radiologist, our ancestors used to live in the Mongolian territory and I will be able to visit Turkish monuments and inscriptions dating back to the 7th and 8th centuries."
Dr. Karçaaltincaba will be accompanied by Carlos Torres, M.D., FRCPC, from The Ottawa Hospital in Ontario, Canada, and Theresa C. McLoud, M.D., from Massachusetts General Hospital in Boston, Mass.
Dr. Karçaaltincaba will spend his trip attending the Mongolian Congress of Radiology, organized by the Mongolian Radiological Society, and lecturing at several local hospitals. He will conclude his trip with a visit to the Terelj National Park.
The International Visiting Professor Program was founded in 1986 and is administered by RSNA's Committee on International Relations and Education. This trip is supported by Fujifilm Medical Systems.
RSNA is an association of more than 54,000 radiologists, radiation oncologists, medical physicists and related scientists, promoting excellence in patient care and health care delivery through education, research and technologic innovation. The Society is based in Oak Brook, Ill. (RSNA.org)
The RSNA Committee on International Relations and Education was established in 1986 to advise the RSNA on how the Society might provide international assistance to enhance radiologic education in countries requesting and requiring assistance. RSNA.org/International/CIRE.